News
Beach Wedding Extravaganza - Lais Ribeiro Ties the Knot In Two Custom GL Gowns!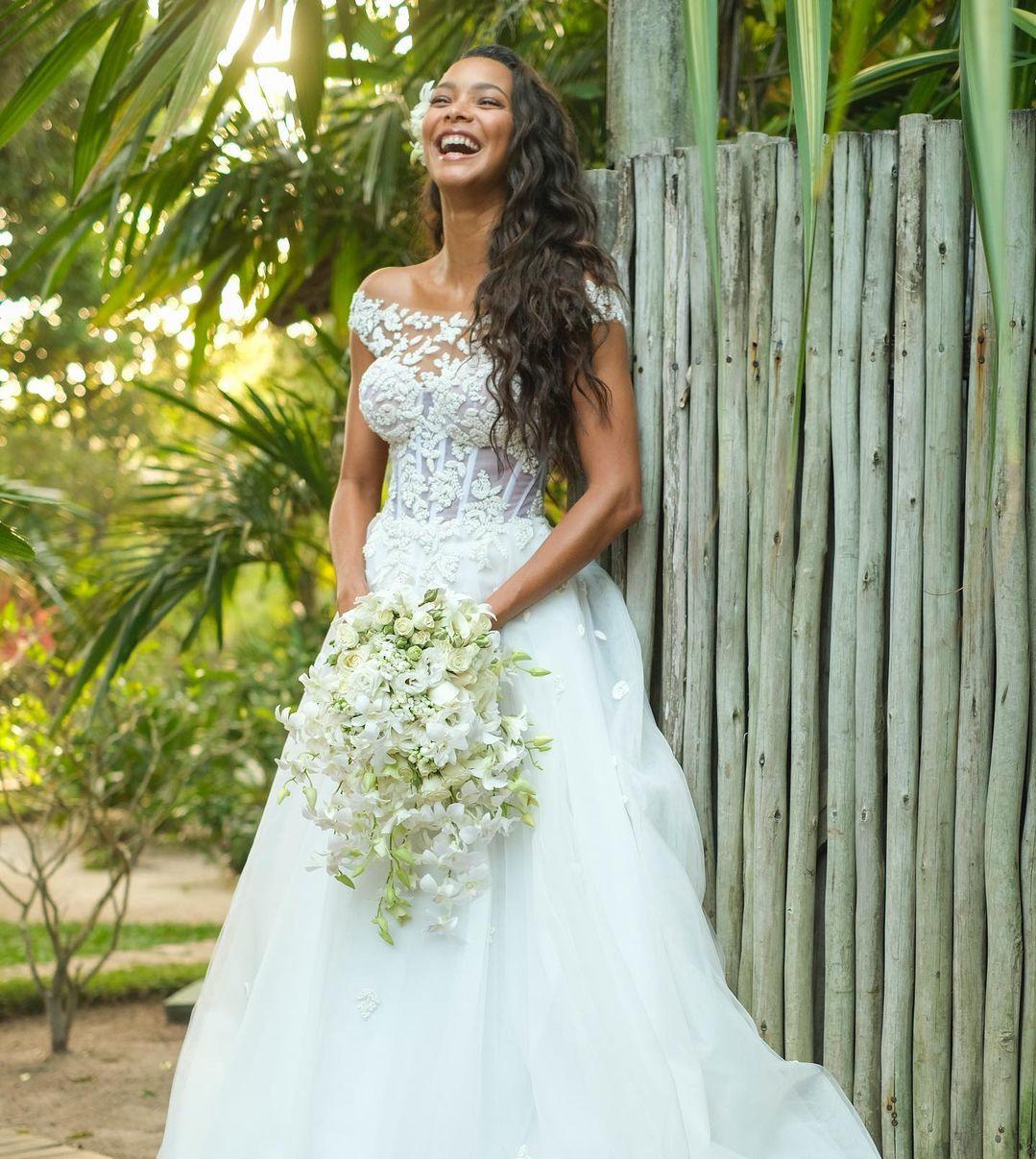 Find your nearest boutique
Brazilian top model Lais Ribeiro looked like a real-life angel in not one, but two custom Galia Lahav gowns as she tied the knot with former NBA player Joakim Noah. The happy couple had a beautiful beach ceremony in their home country of Brazil filled with family, and friends.
The couple's weekend of celebrations kicked off with a white-themed party at Teatro L'Occitane where Lais stunned guests in a custom Galia Lahav look. The show-stopping silk dress hugged her body from head-to-toe, and included details such as sultry cut-outs and a unique high-low hemline. With world famous DJ Black Coffee performing all night, Lais, Joakim, and their loved ones danced the one-of-a-kind night away. As seen in the pictures below, the energy that night was truly spectacular.
Later on in the weekend, Lais and Joakim said their "I do's" at their spiritual & intimate beach ceremony. Lais made her way down the aisle in a custom A-line, off-the-shoulder gown detailed with a corset top and one-of-a-kind appliqués. Lais elegantly accessorized her look with white flowers both in her hair and as her bouquet. To no surprise, Lais made an entrance to remember for every single one of the couple's dear guests.
Lais wasn't the only one walking down the aisle in custom Galia Lahav, however. Lais' bridesmaids, including fellow models Jasmine Tookes and Sara Sampaio, were each wearing a custom Galia Lahav silk pale-gold dress that perfectly complimented the ceremony's aesthetic. In order to ensure that these dresses turned out exactly as hoped and fit each bridesmaid perfectly, head designer Sharon Sever, Lais, and her stylist Philippe Uter worked tirelessly to create a design that would compliment each woman perfectly. As each bridesmaid walked down the aisle, the excitement in the air grew and the energy was absolutely contagious as the sun set in the background.
When we began our journey with Lais for her dream wedding gown, we first and foremost knew that this dress had to embody her incredible personality as well as her unique elegance. In order to accomplish this, Sharon Sever met with Lais in order to properly understand her vision before beginning the design process. Over the course of several months, Sharon and Lais went over various sketches, fabrics, and styles until they found the perfect design for her dream day. The attention to detail was so meticulous that Philippe Uter flew to our headquarters in order to pick the final fabric choice in person. After all of this exciting work, you can imagine our happiness here at Galia Lahav after seeing how Lais' day came together so wonderfully.
We have been honored to have the special relationship with Lais that we do – from her first time wearing Galia Lahav at the 2020 AMFAR Gala, to adding that dress and naming it after her in the collection following, to working so closely with her to bring her wedding dreams to life – Lais will forever have a special place in our heart and we are so happy to have received the opportunity to dress both her and her bridesmaids for the special day she so deserves.