#GLbride
Bride Of The Week: Ana Korkmaz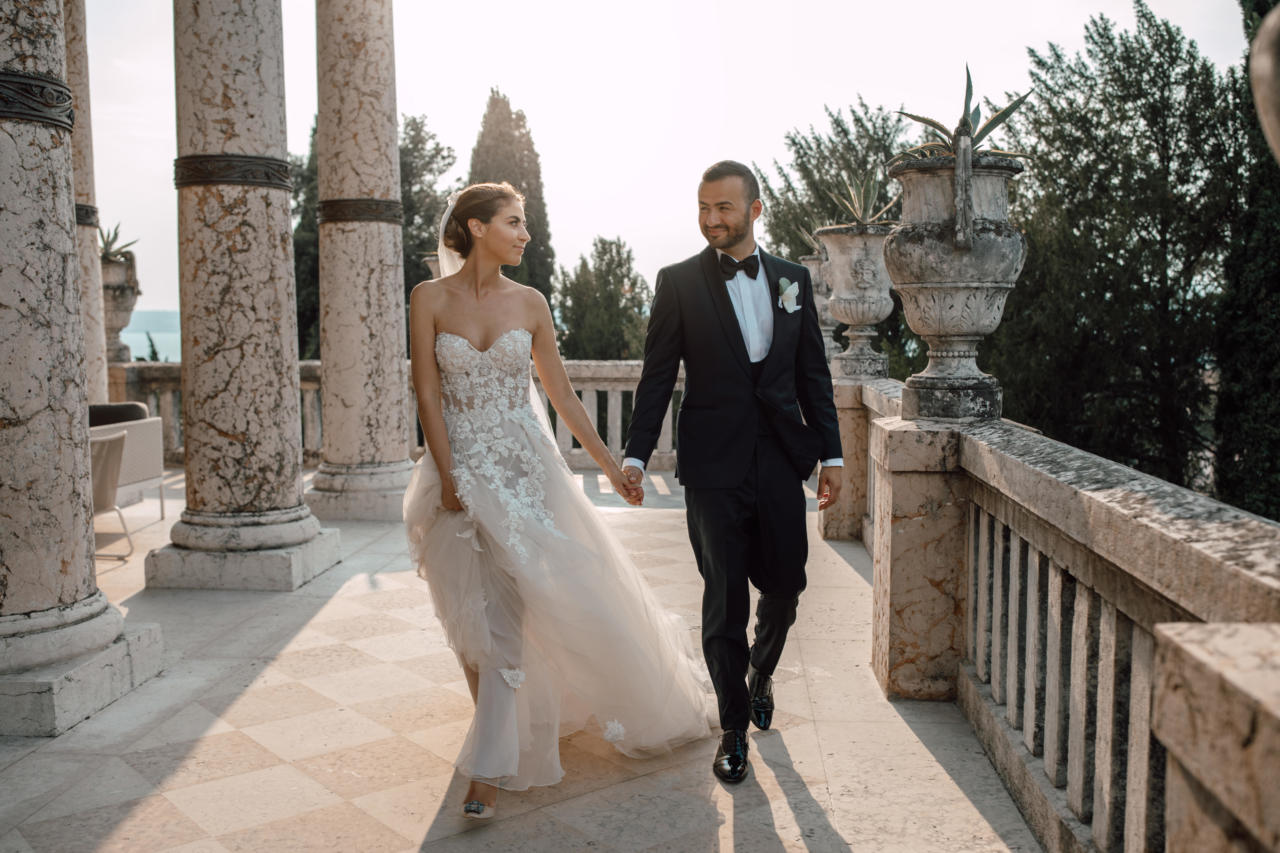 Find your nearest boutique
Today we shine the spotlight on Ana Korkmaz, who shares her journey of becoming our GL Bride of the Week. Ana's wedding day was filled with pure romance as she married the love of her life in our GIA gown in Italy at the breathtaking Palace Villa Cortine. In the following interview, Ana lets us in on her favorite moments and how she discovered the dress of her dreams thanks to a dear friend! As told by Ana:
How did you meet your husband? Tell us a little bit about your relationship.

My husband and I went to the same school. We have been together since we were sixteen. We studied at the same university and basically grew up together. We have been together for fifteen years now and I guess our relationship has grown with us.
How did he propose?

He proposed at the place we met for the first time. The school we went to together. He really surprised me, when he played our song and went down on his knee. He played the song on the iPod he had given me for my seventeenth birthday with the letters "a&b 4 ever" engraved. The sweetest thing is that he fixed that IPod by himself just to make it work for the proposal. 
How did you start planning your wedding? What were the first steps?

We started planning by searching for the perfect venue and photographers. I already had a million ideas of how I imagined our wedding to be, so one of the first things I did, was to buy a wedding planner-book to write it all down. 
What was your wedding theme?

We did not really have a theme on our wedding day, beside us getting married. But in general I would describe our wedding as intercultural because we had our families and friends from all over the world come to Sirmione. 
How did you choose your location?

Our dream was to get married near the water. So when we found the beautiful venue of Villa Cortine Palace Hotel in Sirmione at Lake Garda after hours of searching we immediately completely fell in love with it. This place is magical, so we plan to visit it every year for our future anniversaries.
How did you decide on your bridesmaid style?

I wanted my bridesmaids to look beautiful yet fierce and sort of empowered. So I decided on a nude somehow greek-style jumpsuit. 
How did you find your perfect dress?

I had saved a screenshot of my dress on my phone even a few years before I got engaged. I always knew I wanted my wedding dress to look exactly like this. When it got serious I went to try on dresses in several bridal boutiques but of course there was not a single one that came even close to it. So one of my dearest friends told me, the one and only dress I was looking for is the Galia Lahav "Gia" dress and she also could not see me wearing another dress on my wedding day. She went with me to the closest Galia Lahav Partner which is Zoro Sposa in Zurich and there it was, the dress of my dreams.  
How was your experience with the Galia Lahav brand?

I have had the best experience with Galia Lahav. The dress is just a dream and I love every single detail about it.
What was the most important thing for you and your husband when planning your wedding?

The most important thing for us was to always remember what our wedding was really about. Love. We also wanted to share our happiness and make our guests feel loved.
What was your first wedding song?

The song that played while I was walking down the aisle, was a violin version of "Home" performed by a talented musician we found in the streets of Milano. Our song for the first dance was "Sway" by Dean Martin.
What did you enjoy the most about planning your wedding?

I loved trying on the wedding dresses. I also enjoyed very much seeing my exact ideas for the invitations and floral arrangements come to live – thanks to our amazing suppliers. And of course my husband and I enjoyed the much needed dancing lessons for the first dance.
What advice would you give to all our future brides?

Planning a wedding can be stressful. My most important advice is to never forget what the wedding really should be about. Of course we all want the most beautiful pinterest wedding but at the end of the day nothing really matters, when you marry the love of your life. 
What moment from your wedding will you never forget?

My husband's sweet wedding vows. After fifteen years he somehow still surprised me with his emotional words. 
Location | Villa Cortine Palace Hotel, Sirmione, Lake Garda 
Wedding dress | Gia, Galia Lahav, Zoro Sposa, Zurich
Wedding rings |  Tiffany & Co.
Bridal Shoes |  Manolo Blahnik
Photographers | the Saums 
Violinist | Alberto Dumitru
DJ| Kimbo Tran ("Kimbotran_" on Instagram)
Wedding stationery |  Evelyn Köhnlein by Avecarta Design Munich, ("Avecarta_design" on Instagram)
Flowers |  William and Massimo – Idee fiorite – Sirmione, Lake Garda
Make-Up | Arleta Prus